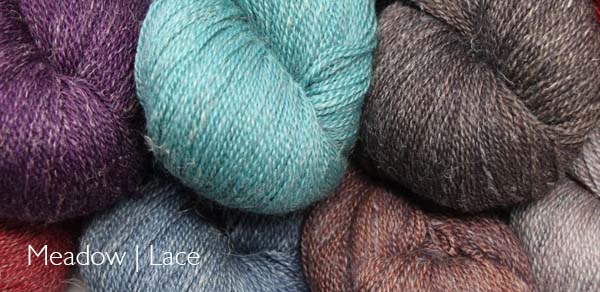 $22.40 OR LESS after FAB discounts APPLIED at checkout (reg $28) + Free U.S. Shipping OVER $75
---
Meadow is the perfect lace weight yarn, spun with The Fibre Co's trademark blend of luxury fibres with a touch of rustic. Combining four of the most luxurious fibres: baby llama, fine merino wool, silk and linen, this 2-ply yarn is slightly heavier than a typical lace weight. A versatile yarn that works well on a variety of needle sizes and a wide array of projects, the crisp hand and stitch definition of linen with the sheen of silk is perfectly complimented by the softness of baby llama and fine merino. A yarn for fibre lovers who like a treat on the needles and for their favourite handmades!
Be they coastal, wooded or alpine, meadows are important ecosystems housing local fauna and serving as a fertile growing ground for flora of many varieties. Usually filled with grasses and other non-woody plants, the theme of lightness is everywhere in a meadow. What better name for a lace weight yarn?
---
Regular stock item: if we're low, order and we'll rush supply from Fibre Co and ship within 4-7 days! We highly recommend this for larger projects to match lots!
The Fibre Company Meadow Lace
weight/length: Lace 100g/545yds/498m
Fibre: 40% Merino wool, 25% baby llama, 20% silk, 15% linen
Gauge: 32–36 sts / 10 cm / 4 in
Needle size: 2.25—3.25 mm / 1—3 US / 13—10 UK
Care: Gently hand wash colours separately in cool water. We recommend alternating hanks as you work to give an overall blended appearance.