$22.40 After Fab Discounts (Reg $28) + Free Shipping on orders over $75
---
Fabulous roll up case neatly stores every size of the Flexis, with a few extra pockets as well.
---
Sorry! The denim case has been discontinued so the still very lovely Natural Cotton case is the only case now available.
---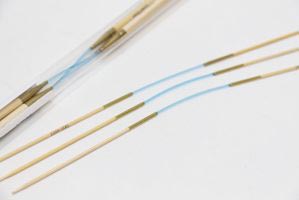 Got flexi? Check out Addi Flexi Flip Flexible Double Point Knitting needles here.
Della Q/Skacel Addi Flexi Case
SIZE: Closed: 10 Tall x approx 3" Wide  | Open: 10 Wide 10.5 Tall
FABRIC: Natural Cotton or Linen
---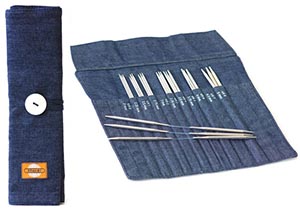 The product of a collaboration between Skacel and DellaQ, this perfectly proportioned storage system was designed to house a full set of Bamboo or Regular Addi FlexiFlips (US 0 to US 8). Each case is constructed of high-quality canvas, and is available in Natural Cotton (sorry, Denim sold out).  A single zippered pocket on the outside allows for the storage of an Addi needle gauge, gold plated scissors, or any other small notions you may want easily accessible. Securing your needles is simple, just roll one end of the pouch towards the other, and fasten with the easy-to-use twine and button closure.