This item has been discontinued.
For a similar item, please see Della's new RUCKSACK - a popular alternative knitting bag!
---
Stuff your stuff in, then roll the top down and secure with the genuine leather strap. Finely handcrafted in waxed canvas, this roll-top messenger has a cool, vintage feel that will always be in style.
Makers Rolltop Bag Details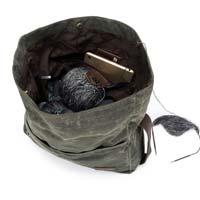 Designed for Makers: Sturdy Waxed Canvas and Leather Exterior
Outfitted with antique bronze hardware
Unique roll-down design secured with leather strap closure
Adjustable strap and carrying handle
Hidden zip pocket located on the back
Four sturdy feet on the bottom to provide stability and protection
Two exterior stitched pockets, two interior water bottle pockets, two interior water bottle pockets, and Interior needle/pen and phone pockets, yarn feeder and yarn cutter
Empty Roll Top weighs 1.25lbs
Dimensions: 16" wide x 14" tall (unrolled)/9.5" tall x 3.5" deep (rolled)