$78 + FREE U.S. SHIPPING OVER $75
---
The bestselling Maker's Portfolio in waxed canvas, color coordinated with the rest of the Maker's line of bags.
Makers PORTFOLIO Details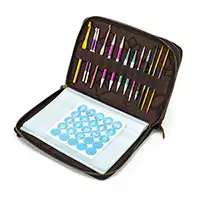 MATERIALS: Waxed Cotton Canvas and Full Grain Leather Trim
SHIPPING WEIGHT: 1.75lbs / 775 gm
Dimensions: 7"(W) x 9.5"(H)
INCLUDES: pattern sleeve window that can stand by itself for viewing while you craft. Sewn pockets, zipper pockets, and vinyl pages, you can fit a whole stash of needles and hooks in this baby and customize your storage.
CARE: Do not machine wash. Do not expose to hot water. Do not use harsh ingredients to clean. Use a soft bristled brush to lightly scrub away any debris. Rub lightly in a circular motion to redistribute wax over unwanted scratches. Use only cold water and a mild detergent when needed.