Crochet or Knit Cashmere Baby Blanket Kit

$160 (reg $200)
discountswill apply to this item at checkout


This kit comes in three prepacked color palettes - the Spring Pinks shown at left, the Baby Blues Palette at right, and a Neutral Yellow Based palette as well. The kit includes the yarn, pattern & tools to make either the crochet (shown left) version, or the knit version, shown below and in blue at right. Of course, you may knit these blankets in your own color palette, as well, just use put together six skeins of the cashmere sock yarn and you're ready to go!
| | | |
| --- | --- | --- |
| | | |
| | | |
| Spring Neutrals | Baby Blues | Spring Pinks |




Just the book of cashmere sock patterns, Please!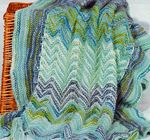 above - the knit version of the cashmere blanket in the blues palette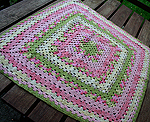 Spring Pinks Pallet in the crochet blanket
At left, the knit version of the baby blanket by one of our knitters in SPRING PINKS.