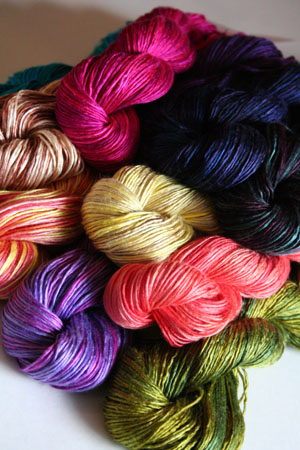 Why do we love Artyarns Regal Silk? Well, for one, it's just visually beautiful. Handpainted silk in a wide range of color choices - wonderful for shawls and leightweight tops - one skein will get you a hat and booties for baby. It's elegant, beautiful, and wonderful to knit - anything becomes a work of art with Artyarns Regal Silk.
Many people consider Artyarns Regal Silk a luxury yarn, but for us, its a basic. This lovely handpainted silk yarn is great for any number of fantastic knitting patterns - from elegant shawls to lightweight summer tees! Light, delicate, but an incredibly hard wearing fiber, silk is wonderful if you like handknits, but don't want heavy wools - and the color palettes are here for anybody's sense of color - imagine an elegant evening shawl in Shimmery Silver Silk Cappucino (137) or a wild P90 Sleeveless tank in Hot Red Silk Marguerita yarn (#115). Your imagination is the only limit, this yarn works with any 4/5 stitch per inch gauge yarn
Just in time for spring, we're introducing all of the Artyarns Highlights colors in their perfect DK weight silk. From the Bright Pinks of Cherry Pop to the subtle teals of Emeralds, there's a lot to love in this fantabulous, extrememly high quality japanese silk with a great hand, and lots of lustre - and less pilling than most silks. Great for baby hats, blankets, and lightweight tops - check out the silky tie wrap , or the lace wrap shrug - both free patterns with any Regal Silk Yarn purchase!

$24 ON SALE $18.75
Content: 100% Silk
Gauge: 5 stitches = 1 "
Weight: LT WORSTED /DK
Recommended Needle Size: #7 Approx. yardage = 163 yards Approx. Weight = 50 grams
Sideways Garter Pattern Included with this purchase




Brand New Highlights Colors from Artyarns!
H1 Cherry POP
H2 Peridot
H3 Sargasso Sea
H4 Scarab
H5 Violetas
H6 Burnt Orange
H7 Heart
H8 Gold
H9 Deep Greens
H10 Rose Ombre
H11 Black Cherry
H12 Antique Ivory
H13 Emerald City
H14 Cloudy
H15 Strawberry Sundae
H16 Winter Bouquet
H17 Emerald Purples
H18 Citiscape
H19 Charcoal Browns
H20 Dune
H21 Inky Blues
H22 Vertes
H23 Emeralds
H24 Wild Berries
H25 Hot Coral Pinks
H26 Tahiti
H27 Cake
H28 Citronella
H29 Coral
H30 Tutti Fruitti
H31 Lilac Parfait
H32 Go Green
1025 Sari
Regal Silk 271 Antique Peach (One+One)
182 Jewel
167 Oyster Pearl
193 Summer Fruit
164 The Queen
222 Squashy Pumpkin
179 Twilight
171 Collegiate
191 Blue Sage
173 Harvest
1005 Stormy
248 Chocolate
223 Vanilla
264 Steel
246 Black
250 Snow
154 Creamy Melon
136 Orange Medly
150 Golden Khaki
146 Parrot
139 Sky Bluegrass
138 Purple Royale

117 B&W

112 Mauve Roses
133 Ferns
152 Coral Stripe
Pink Chocolate 130
103 Peppers
Forest 119
202 Melon

127 Spring
Sunshine 134
107 Marine

106 Seagreen

115 Marguerita
135 Sunburst

215 Pink Me
101 Sunset

137 Cappucino
105 Dawn

108 Purple Mist


109 Pink Lilacs
144 Nature
India 114
110 Flamingo Pink
123 Lagoon
134 Sunshine
143 Taupe Navy
Cloud 145
225 Denim

207 Dusky Blue

111 Pink Dawn
102 Mexico

104 Grassy Greens

As Seen In

Uses Regal Silk 134,
Beaded Silk 134 Gold, 250 Gold, 231 Gold



Get a Free Artyarns Pattern w/any Artyarns Yarn




Cashmere Wristies!