$20 (reg price) — less after Fab Instant Discounts at checkout!
Stock item: you may overorder and your order will ship in + 3-5 days. If you cannot add a color to your cart, it means it is currently unavailable: email us for estimated restock date.
---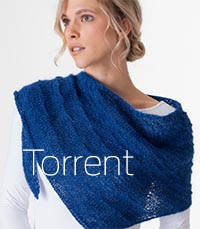 Washed paper, silk and cotton come together in Vine to create an unexpectedly soft yet crisp yarn. In Shibui's fabulous colors, and in the form of a wrapped ribbon, wonderfully crunchy and full of texture. Knit solo on larger needles for a distinctive open fabric or combine with additional Shibui yarns to increase depth and complexity.
---
(above right) Free tORRENT Pattern with Purchase. Requires 2 SK VINE/1 SK SILK CLOUD. Shown in color Blueprint.
---
FIBER: 41% Paper/31% Cotton/28% Silk (DK)
YARDAGE: 160yds / 146m  / 30g
GAUGE: 18-20 sts = 4" on US6 / 4 mm
Shibui Vine Paper/Silk/Cotton
FIBER: 41% Paper/31% Cotton/28% Silk (DK)
YARDAGE: : 160 yds / 146 m,  / 30 g
GAUGE: : 18-20 sts = 4" on 6 US / 4 mm