$19.50 reg price — (less after fab Volume Discounts applied at checkout)
STOCK ITEM: YOU MAY OVERORDER AND YOUR ORDER WILL SHIP IN + 3-5 DAYS. IF YOU CANNOT ADD A COLOR TO YOUR CART, IT MEANS IT IS CURRENTLY UNAVAILABLE: EMAIL US FOR ESTIMATED RESTOCK DATE.
---
FIBER: 100% LINEN
WEIGHT/length: FINGERING / 246 YDS / 225 M, 1.76 OZ / 50 G
GAUGE: 26 - 28 STS = 4 INCHES ST ON 5 US / 3.75 MM
---
Octave Wrap Pattern is free with your purchase of Reed Linen!
---
Stock item: you may overorder and your order will ship in 3-5 days.
Please Note: If you cannot add a color to your cart, it means it is currently unavailable - please chat or email us for estimated restock date.
SHIBUI REED LINEN COLORS
---
NEW 2021 REED COLORS
---
CLASSIC REED COLORS
---
LIMITED EDITION REED COLORS
Shibui Reed Linen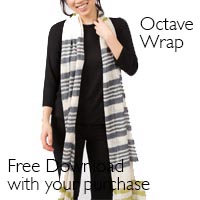 (right) Free Octave Wrap pattern download w/ Reed purchase. Requires 7 skeins: (4) skeins Color A + (2) skeins Color B + (1) skein Color C. Wrap shown in Ivory (A), Graphite (B), Apple (C)
Supple and soft, Reed is a smooth linen chainette that flows easily across the needles for graceful garments and accessories.
---
FIBER: 100% Linen
YARDAGE: Fingering / 246 yds / 225m, 1.76oz / 50g
GAUGE/NEEDLE: 26 - 28 sts = 4 inches st on 5 US / 3.75 mm