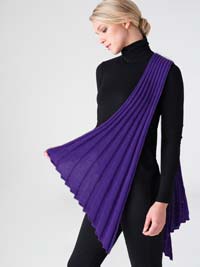 FREE Scarf Pattern download: Stoa (at right) included with your limited edition color TYRIAN purchase: You'll need 4 skeins of Echo.
See swatches below for prices by fiber—before your volume discounts are applied! Where available, you can click through to see other colors in that fiber. Note: these limited edition colors only available until sold out!
---
Shibui Limited edition in latest color Tyrian... Tyrian was the original purple discovered by Hercules in ancient Phoenicia and named for his beloved Tyrus; it seems Hercules' dog's tongue was turned purple by a snail he'd eaten, and seeing this his girlfriend demanded a robe made for her in this new hue. This rare color became the preferred color of royalty and has been ever since. This limited edition version is a lush royal purple available in 8 of Shibui's fabulous fibers!
Shibui Tyrian
SOLD OUT NO LONGER AVAILABLE