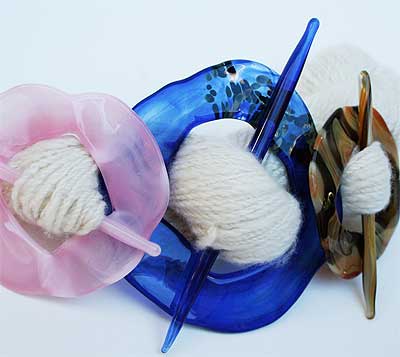 Wow - who knew you needed shawl pins? But now we do know, and we know just the shawl pins you need - to get for yourself or to give as a gift. Shawls have been the rage, well, for centuries - but they are raging especially hard right now! And these are the perfect finishing touch. Moving Mud's hand blown glass works of art are one of kind perfect for any lovingly made knitting project.
Gorgeous hand-blown glass shawl pins from the artisans at Moving Mud.
Please note that we are sold out on most of the shawl pins - only the top row are currently available. If you would like to special order any of the other colors, please order the one you are after and we'll commission it. Our new order is on the way, so do check back for more styles in late July!
Med ($28)

Turquoise
Peacock
Teal Swirl
Yellow
Ribbon
Garden Ribbon
Black & White
Sunset
Peach Haze
Pink Jade
Cherry Swirl
Peacock
Napoleon
Garnet
Amber Ribbon
Green Monet
Lapis
Copper Swirl
Chocolate Ribbon