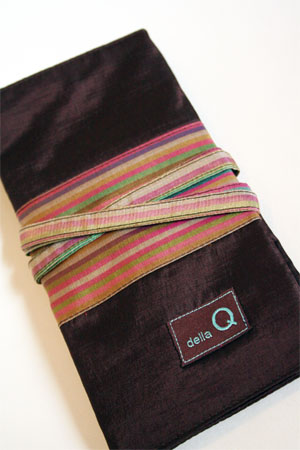 QUE Interchangeable Needle Case

Fifteen numbered pockets for tips, five additional unnumbered


Four unnumbered pockets for cords


Zip pocket for connectors and tools


US Numbers: 2, 3, 4, 5, 6, 7, 8, 9, 10, 10.5, 10.75, 11, 13, 15, 17

Metric Numbers: 2.75, 3.25, 3.5, 3.75, 4, 4.5, 5, 5.5, 6, 6.5, 7, 8, 9, 10


Closed: 4" w x 7.25" h Open: 15" x 7.25"

Deep Rich Brown Stripe silk let you take your Knit Picks, Addi Clicks or any other interchangeable set. It might even be smaller than your wallet for those of you who feel the need to keep every receipt. You have a case already? Where are you storing those extra tips we know you bought? There is space in this case. The case folds in quarters and ties securely. A zip pocket on the side stores your connectors or tools. Have two sets of interchangeables? Check out our Double Interchangeable Case.

$38 + free shipping
at the request of Della Q, our regular volume discounts will not apply to this product at checkout. Sign up for your elist 5% off code. Discounts will apply to Della Q Products on orders above $75
Style#185 Poly-Silk/Printed Cotton

ADDI Turbo Click sets fit Smartly in a Della Q Case:

044 Ocean
041 Brown
040 Purple
046
Red
071 Seafoam
050 Solic Black
Naturals
Pinstripe
Limited Edition Cotton Prints
109 Columbia
110 Belmont
Austin 108
Trenton 107
Madison 105
103 Latona
104 Market
101 Kensington
102 Meridian

The interior of this case - showing all the numbered pockets for storing your tips, cables and accessories.