$52 + Free shipping on ALL Della Q + Extra Discounts on Della when your order reaches $50 or more!
---
Hey Ho Take your needles and GO! The Della Q Trifold Circular case keeps those circulars organized, protected, and ready to use.
Scroll down to see available colors. Note if we're out of stock, you may preorder. Cottons are limited edition and may not be available when current inventory runs out.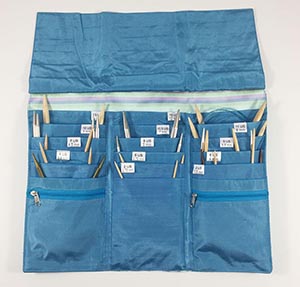 Della Q Trifold Circular Case
Size Closed: 5 X 11" | Open: 14 Wide 10.5 Tall
Fabric: Taffeta Silk/Poly Silk or Cotton
CONTAINS: Thirteen numbered pockets, five unnumbered + Two zip pockets for notions
HOLDS US Numbers: 2, 3, 4, 5, 6, 7, 8, 9, 10, 10.5, 11, 13, 15
HOLDS Metric Numbers: 2.75, 3.25, 3.5, 3.75, 4, 4.5, 5, 5.5, 6, 7, 8, 9, 10