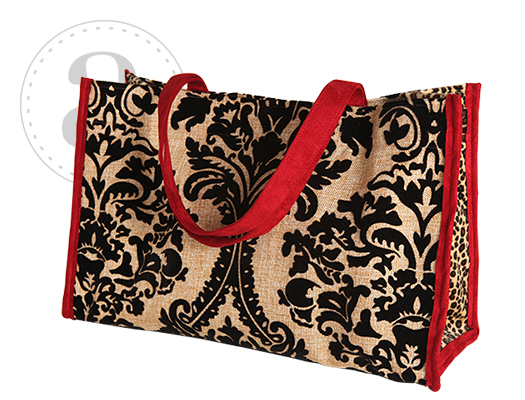 $130 or less + Free Shipping!
(Discounts will apply to ATENTI Products when your order reaches $300!)
(Avail: )
---
Gorgeous flocked velvet on linen with contrasting hot red velveteen handles and trim and animal print gusset.
If we do not have your bag in stock, you may place a special order. Subject to availability at ATENTI.
MAXI STYLE OPTIONS
any style shown is avail by special order if we're out. Just ask!
About the Atenti Maxi Tote
The Atenti Maxi - A bag to carry anything and everything! It's practical and roomy with double 26" suede shoulder straps and is fully lined in water resistant taffeta with a zippered pocket and a divided pocket with a cell phone slot. Stands on it's own, but is soft enough to feel comfortable under the arm!
Dimension: 19.00"W x 12.00"H x 7.00"D
Weight: 1.50 lbs