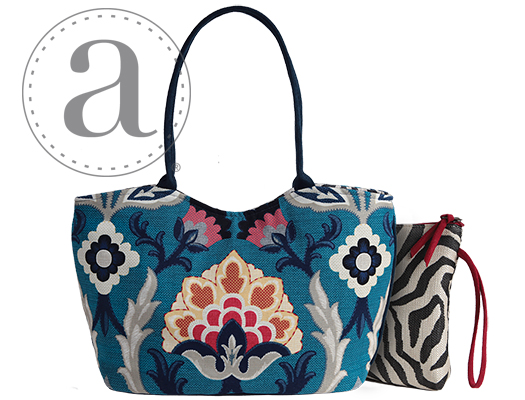 $172-180 or less + Free Shipping!
(Orders over $300 qualify for our Volume Discounts at Checkout!)
---
The Atenti Lolita - is a fabulous, feminine bag that fits the bill whether you are going
to the opera or to the park. With its' matching large detachable interior pouch 12" x 10" x 3" you'll be able to take along both your project and your accessores. Not to mention your celphone, wallet and ipad!Both pieces are fully lined with water resistant taffeta. The outside shell bag includes a zippered pocket and an open divided pocket with a cell phone slot. 17" wide x 11" tall x 6" deep. This bag has feet. At left - Licorice with it's zebra stripe pouch!
If we do not have your bag in stock, you may place a special order. Subject to availability at ATENTI.
About the Atenti Lolita Bag with Pouch
The Lolita is an open tote with a magnetic closure and a large detachable interior pouch 12" x 10" x 3" in a matching fabric. Both pieces are fully lined with water resistant taffeta. The outside shell bag includes a zippered pocket and an open divided pocket with a cell phone slot. 17" wide x 11" tall x 6" deep.

Dimension: 17.00"W x 11.00"H x 6.00"D
Weight: 2.00 lbs