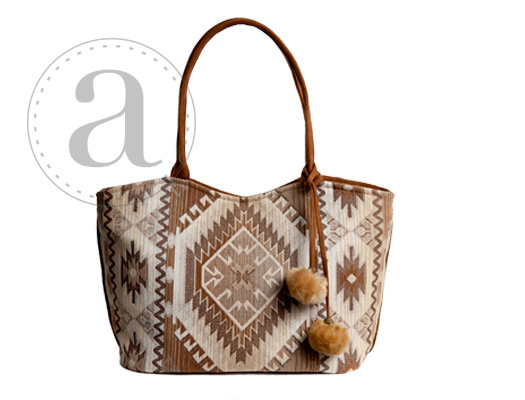 $178 or less + Free Shipping!
(Discounts will apply to ATENTI Products when your order reaches $300!)
(Avail: )
---
The Atenti Sand Valley Lolita – Native American inspired patters in the colors of the Western desert sands are mixed with a touch of leopard. The Lolita is an open tote with a magnetic closure and a large detachable interior pouch 12" x 10" x 3" in a combining fabric. Both pieces are fully lined with water resistant taffeta. The outside shell bag includes a zippered pocket and an open divided pocket with a cell phone slot. 17" wide x 11" tall x 6" deep
If we do not have your bag in stock, you may place a special order. Subject to availability at ATENTI.
Atenti Lolita Bag with Pouch
The Lolita is an open tote with a magnetic closure and a large detachable interior pouch 12" x 10" x 3" in a matching fabric. Both pieces are fully lined with water resistant taffeta. The outside shell bag includes a zippered pocket and an open divided pocket with a cell phone slot.
---
Dimension: 17.00"W x 11.00"H x 6.00"D
Weight: 2.00 lbs