$39 ON SALE (msrp $54)
(No further discounts - FREE SHIPPING!)


Contents 100% Cashmere
Weight/Yardage 50g/sk/510yd/466m
Gauge: #2 US 8 sts/inch 32 sts/10cm
Care: Hand Wash & Dry Flat or Dry Clean.
Included with Every Cashmere 1 Yarn Purchase: Cashmere Lace Ebook from Artyarns featuring 5 Beautiful patterns!
Projects from the One + One book featuring Cashmere 1!
Lacey Cowl Wrap
Elegant Cashmere Shawl
Free with any Cashmere 1
Yarn Purchase!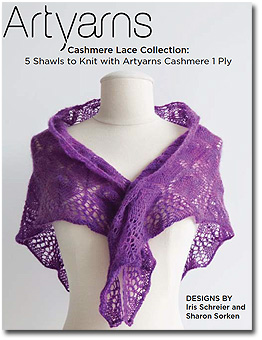 Project shown above uses 1 skein of Cashmere 1. Shown in 125 Wild Purple.
512 Moore
516 Koons
514 Degas
1028 West
1031 Frida
1032
916 Dusty Purple
119 Forest
244 Regal Red
H10 Peach/Coco
H8 Gold
226 Blue Jeans
H2 Limes
248 Chocolate
298 Purple Intenso
2289 Dusty Plum
247 Silver Grey
272 Silver
250 White
246 Black
267 Dark Navy
2267 Dark Navy Tonal
501 Bonnard
502 Parrish
503 Hockney
504 Olana
505 Okeefe
506 Wyeth
507 Van Gogh
508 Monet
H13 Emerald City
H1 Cherry Pop
2287 Annes Pink
H9 Forest Greens
H3 Sargasso Sea
H4 Scarab
H5 Violetas
H7 Heart
H6 Burnt Oranges
H11 Black Cherry
H12
Antique Ivories
H14 Cloudy
H15 Strawberry Parfait
H17 Scarab
H18 CitiScape
H19 Copper Charcoal
H23 Emeralds
H24 Wild Berries
H25 Hot Pink Coral
924 Wheat
H16 Blue Grey Tonal
193 Candy
164 The Queen
141 Orange Taupe
249 Taupe
126 Lavender
144 Black - Grey - Taupe
150 Harvest
161 Blood Orange
1004 Lavender Grey Multi
B&W
117
124 Pearl Grey
2297 Spring Green
259 Beige
2292
(One+One)
1003 Brown Grey Blk
Circus
136
Lawn Chair
139
264 Steel
125 Wild Purple
256 Cabernet
2261
(One+One)
Seagreens
106
Marguerita
115
Petal Pink
Choc. 130
143 Navy Taupe Stripe
137 Creme D'orange
223 Vanilla
247 Classic Grey
133 Ferns
India 114
Purple Mist
108
128 Sundae Stripe
144 Nature
Purple Royale
138
258 Sienna
248 Chocolate
Sunset
101

Marine
107

246 Soft Black
250 Snow White
Lagoon
123
Forest
119
Spring
127
Flamingo
110
263 Auburn


Encadre Cowl Knitting Pattern
(3 skeins, 2 Main, 1 Contrast)