| | |
| --- | --- |
| | Artyarns Cashmere in 143 Navy Chocolate Taupe |
| | Artyarns cashmere knitting yarn is a cashmere yarn that just must be touched to be believed. 5-stranded, at first it appears to be thread - but in fact, it is 5-strands that carry together, and create dimension and depth to the finish knitted project. This is a delight to knit, and even better to wear. Ultra-soft with a delicate hand, and the usual amazing colors of Artyarns - all come together in this incredible luxury cashmere yarn. This is beautiful, italian handpainted 100% 5-Ply cashmere that must be touched to be believed. |
| | |
| | |
143 Navy Chocolate Taupe is one of our classic favorite cashmere colors - with lovely complimentary colors like pale and dark blue, chocolate, creme and taupe. You just can't go wrong - and its a great color for boyfriend or hubby knitting projects, too!
$43.20 or less (msrp $54)
+ Free Shipping over $50! (US)
(Fab discounts of up to 30% off applied at checkout)


Fiber Content: 100% Italian Cashmere
Fiber note: this is a WORSTED weight - it is 5 plys that carry along side by side. It looks thin- but it's NOT - it IS the most fantastic worsted cashmere ever!
50g Skein/Yardage: 102 yds.
Weight: Worsted Gauge: 18
(Stitches per 4.0 inches/10cm.)
Needle Sizes: 8 U.S. (5mm)
Care: Hand Wash & Dry Flat or Dry Clean.





Projects from the One + One book featuring Cashmere 5
Taj Mahal Scarf
Corrugated Rib Cashmere Scarf

501 Bonnard
502 Parrish
503 Hockney
504 Olana
505 Okeefe
506 Wyeth
507 Van Gogh
508 Monet
2287 Annes Pink
H1 Cherry Pop
H3 Sargasso Sea
H4 Scarab
H5 Violetas
H7 Heart
H8 Gold
H9 Forest Greens
H10 Peach/Coco

H11 Black Cherry
H12
(One+One)
H13 Emerald City
H14 Cloudy
H15 Strawberry Parfait
H6 Burnt Oranges
H17 Scarab
H18 CitiScape
H19 Copper Charcoal
H20 Antique Ivories
H21 Inky Blues
H23 Emeralds
H24 Wild Berries
H25 Hot Pink Coral
916 Dusty Purple
924 Wheat
H32 Go Green
F6 Winter Bark
244
Red Hot
(One+One)
2293
(One+One)
H14
(One+One)
150 Harvest
161 Blood Orange
133 Ferns
143 Navy Taupe Stripe
137 Creme D'orange
256 Cabernet
125 Wild Purple
267 Dk. Navy
258 Sienna
248 Chocolate
247 Classic Grey
249 Taupe
246 Soft Black
250 Snow White
264 Steel
223 Vanilla
128 Sundae Stripe
144 Nature
India 114
Purple Mist
108
Sunset
101

Marine
107

B&W
117
Flamingo
110
Petal Pink
Choc. 130
Forest
119
Lagoon
123
Pearl Grey Blue
124
Spring
127
Seagreens
106
Circus
136
Lawn Chair
139
Marguerita
115
Purple Royale
138
249 Light Camel
410 Pastel Green
Looking for the cashmere zig zag hat kit? You'll find it here! Hello MD'ers!
Zig Zag Cashmere Hat Kit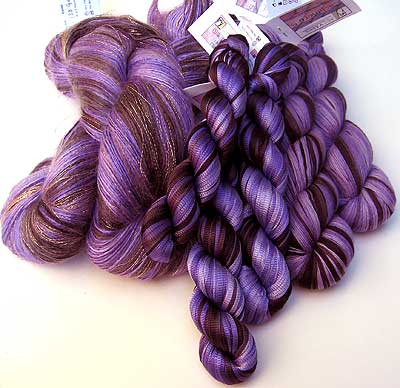 Artyarns Cashmere 138 with it's silk ribbon and rhapsody glitter partners!