$29.00 + Free U.S. Shipping (at the request of madelinetosh, our regular discounts will not apply to this item at checkout)
---
See 100+ in-stock colors below: New colors and fade kits just added!
---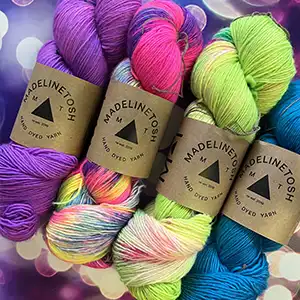 Check out the new Barbie colors here!
This beautiful, high quality, hand-dyed single ply Superwash Merino fingering weight yarn is one of knitting's most popular yarns for a reason! One or two of these big 420 yd skeins is enough for many projects making it a great value in luxury yarns. Huge range of colors, some really unusual to Tosh, like Cosmic Wonder Dust and Pinata Pop. One of the top favorites at Ravelry. Hand-Dyed in Texas from wool ethically sourced in South Africa. Now featuring new Fade Kits!
---
FIBER: 100% SUPERWASH Merino WOOL (Fingering/Sock)
YARDAGE: 420 Yd (384 M) / 100gm
GAUGE/KNIT: 26-30 st per 4" or 10cm on us 1 - 2 (2.25 to 2.75MM) needles
GAUGE/CROCHET: 21-32 st per 4" or 10cm on us B1 - E4 (2.25 to 3.5MM) needles
---
Dyed in small batches, Tosh yarns do not have dye lots. we order in large batches and visually match your skeins! For larger quantities You can SPECIAL ORDER TOSH LIGHT (min 3 sk) Tosh Light Special orders ship in 3-6 weeks. we'll let you know eta when you order and keep you updated!
---
TOSH LIGHT KEN-ERGY + BARBIE PALETTE COLORS
---
TOSH LIGHT BARBIE 4 skein bundles ($116)
---
TOSH LIGHT BARBIE SINGLES
TOSH LIGHT 4 SKEIN FADEKITS
$92.80 After fab discounts at checkout (REG $116) + FREE U.S. SHIPPING
TOSH LIGHT 5 SKEIN FADEKITS
$116 After fab discounts at checkout (REG $145) + FREE U.S. SHIPPING
Tosh Merino Light (Fingering)
FIBER: 100% SUPERWASH Merino WOOL
LENGTH: 420 Yd (384 M) / 100gm
GAUGE: Single Ply / Fingering/SOCK
GAUGE/KNIT: 26-30 st per 4" or 10cm on us 1 - 2 or 2.25 to 2.75MM needles
GAUGE/CROCHET: 21-32 st per 4" or 10cm on us B1 - E4 or 2.25 to 3.5MM needles
NEEDLE SIZE: #US 1 - 2, or larger for openwork lace
SOURCE: Hand dyed in the US from South African Merino
CARE: Wash on Gentle or Hand Wash | AIR DRY FLAT