$124.00 after fab discounts applied at checkout (Reg $155) + Free U.S. Shipping
Avail: ()
---

The Glory interchangeable knitting needles set is designed for the ultimate knitting luxury for all kinds of projects and yarns. Hand-crafted from the finest ebony wood, the 8 pairs of 5in (13 cm) long needles come in a range of sizes from US 2.5 - 11 ( 3.5 - 11 mm). The beautiful embroidered Khadi soft silk case keep your needles safe and organized.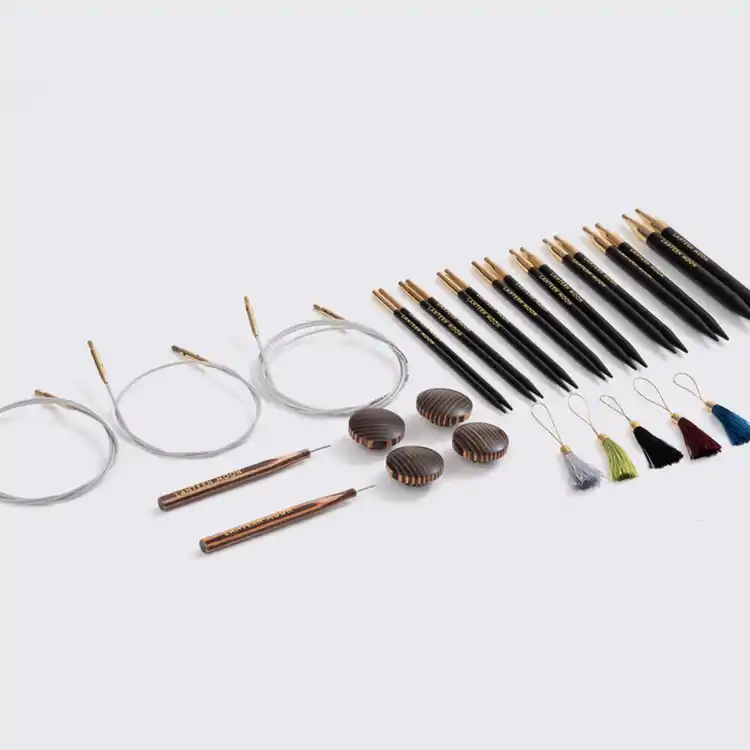 This kit also comes with 3 stainless steel swivel cords in lengths of 24", 32", and 40", perfect for tackling heavy, flat-knitted projects or the wide circumferences of oversized sweaters or cardigans. And because circular knitting needles help to prevent wrist fatigue, you can knit for hours on end without discomfort. Plus, the lightweight yet sturdy ebony needles ensure a smooth, enjoyable knitting experience every time. Whether you are a beginner or a seasoned knitter, this set of interchangeable knitting needles will quickly become your indispensable choice for all your knitting needs.
Plus, with wooden end caps, tightening tools, and colorful stitch markers included, you'll have all the accessories you need to keep your knitting organized and on point, regardless of whether you exercise your craft at home or while commuting.
CORDS: 3 Nylon Coated Stainless Steel Swivel Cords of 24" (60cm), 32" (80cm) & 40" (100cm) (Cord length denotes complete needle length)
includes Accessories: 4 Wooden End Caps, 2 Tightening tools & 5 Colorful Tassel Stitch Markers
8 pairs of 5" (13 CM) Interchangeable Tips: US Sizes: 2.5, 4, 6, 7, 8, 9, 10 & 11 MM Sizes: 3.0, 3.5, 4.0, 4.5, 5.0, 5.5, 6.0 & 8.0mm
---
See the similar 5 tip version: Lantern Moon Charm Interchangeable Needle Set and also the similar luxe 10 tip set Lantern Moon Heirloom Interchangeable Needle Set, both with 5 inch tips.