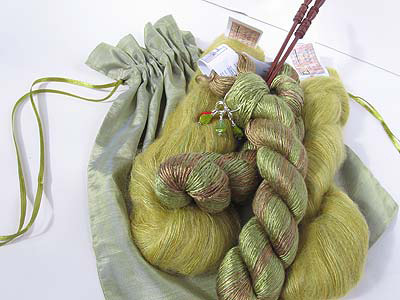 Our luxury knitters pouch with matching stitchmarkers, patterns and beautiful wooden needles! Choose the glitter version for some extra Gift sparkle! Shown above in No 16 Greens/Greens Browns.
---

Noone said anything about being fair. Putting something like this in front of a knitter is like putting.....well, I don't want to go there. But you get the picture. This is a totally awesome gift, that speaks in any language, to any type of knitter. What's in it? To-Die-For Artyarns handpainted Mohair & Silk yarns, a pair of beautiful Surina or Brittany knitting needles,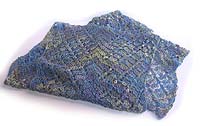 and a set of knitifacts stitch markers, all nestled like jewels inside a gorgeous Della Q silk drawstring knitters project pouch, and wrapped in our fabulous gift wrap. Included is a pattern to knit the gorgeous shawl shown at right using Artyarns fabulous modular knitting techniques. What more could a knitter ask for?