Very simple faux lace created by alternating panels of garter stitch and single row of elongated stitches created with yarnovers, very simple. This pattern creates a small piece with one skein, but can be doubled by using two skeins. The width is increased by using yarnovers at the beginning of every row.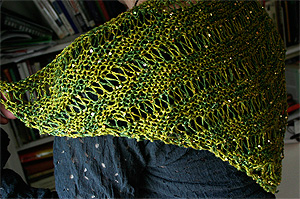 1 skein makes this shawlette - approx 27" across the top and 15" long! Use 2 skeins for a full fledged shawl. Note: can be done in any yarn, shows off embellished yarns especially well!
---
FIBER: 1-2 SK ARTYARNS BEADED SILK & SEQUINS LIGHT
NEEDLE: US 10.5 CIRCULAR
SKILL LEVEL: EASY BEGINNER
DESIGNER: JUDY SCHMITZ
---
---
As many as you like, at no charge when you JOIN OUR KNITLIST!
We specialize in chunky, bulky, and funky knitting patterns and yarns that work for children, baby and toddlers. Knitting patterns that are simple and easy to work, yet satisfying even for an experienced knitter because of the unique yarns used. These patterns come as a free download with your yarn order in our knitkits!