This gorgeous shawl looks like a really complicated lace pattern, but it's not! It's a simple repeating pattern of 2 stitches knit regularly, and then 2 stitches with yarn overs (really easy to do! we explain it in the pattern).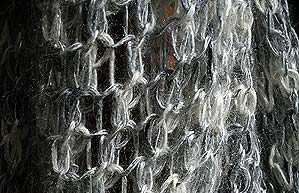 By combining two incredible fibers (Artyarns Rhapsody glitter and silk mohair) you get a finished shawl that is a designer garment. Luscious to wear or just leave lying around the house.
This shawl was made combining one skein each of Artyarns Silk Rhapsody Glitter and Silk Mohair for extra halo and loft: Rhapsody Glitter Light 117 Black & White (silver) + Silk Mohair in 117.
---
FIBER: 1-2 sk ARTYARNS BEEDED SILK & SEQUINS LIGHT + Silk Mohair
NEEDLE: US 5 or 6
DESIGNER: PEGGY SCHMITZ
SKILL LEVEL: EASY BEGINNER
---
Free pattern download at checkout—where you'll give your email address and be added to the Fab E-list and receive a code for an extra 5% off!. Get your needles here.
---
As many as you like, at no charge when you JOIN OUR KNITLIST!
We specialize in chunky, bulky, and funky knitting patterns and yarns that work for children, baby and toddlers. Knitting patterns that are simple and easy to work, yet satisfying even for an experienced knitter because of the unique yarns used. These patterns come as a free download with your yarn order in our knitkits!