Search Tip by Fiber & Brand on Ravelry
So this, my friends, is so cool! We just discovered it while chatting with a customer – who had 6 skeins of RIOS and needed a project. There are just SO many – I couldn't wrap my head around it – but I discovered a way to sort by very specific things on rav.
I wanted to know, basically, what patterns for rios there were by book. If you go into Ravelry and just sort by RIOS, it is too overwhelming. Or, if you go and search by the yarn, and then look by project – 36 thousand! WHOA!
So, I clicked on patt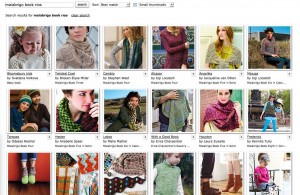 ern search and typed in MALABRIGO BOOK. Up popped all the patterns from the Malabrigo Books, which is pretty cool – but it doesnt tell you what fiber the project takes unless you click and go into the project! TOO MUCH WORK!.   I had to narrow it down by fiber. What they hay – I just typed in RIOS at the end – and voila! All the patterns in the Malabrigo Books in RIOS were laid out before me! FUN!  You try it! http://www.ravelry.com/patterns/search#sort=best&query=malabrigo%20book%20rios