Kelebek's Sept. KAL Shawl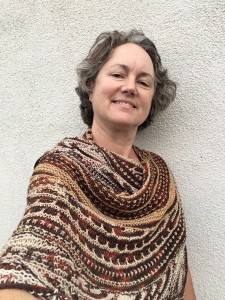 Iris Schreier of ArtYarns ran a KAL on Ravelry during September and designed a pattern to feature her Cloud Merino yarn plus the Merino Cloud gradients sets using the same type of yarn. The pattern may become available at a later date, but currently is only available to KAL participants. However, many of her other designs are available and are equally engaging.
This shawl uses ArtYarns Cloud Merino H6 Burnt Orange and the Golds gradients set.
I added a few silver-lined gold beads to the i-cord edge. I knit it up as written on size 7 needles plus 3 (3!) 60″ cables toward the end. I am a very loose knitter, but the pattern features slip stitches and I was concerned the fabric might become too dense if I dropped my customary 3 needle sizes to get gauge. It was an easy knit, featuring no-wrap short rows and an exciting interplay of pattern and color between the main color and the gradients. I used all but 2 grams of the main color, and in the most needle-clenching gradient, had less than 1 gram left. Yikes! The others had plenty of lee way.