Buttons in , wood bone and tagua nut buttons in sizes from 3/4" to 2 1/4"

Handcrafted makes beautiful and functional handcrafted knitting needles, bags and accessories. Acknowledging and supporting the skills and cultures of the people who make them and inspired by the communities that use them. Handcrafted supports socially and globally conscious living working directly with their producers to provide income, education and self-reliance to Vietnamese women and their families.

In 2004, Handcrafted established an educational trust fund to benefit the children of these families. The natural materials that inspire their designs are combined with traditional handcrafting skills that have passed down from generation to generation in these families. Their knitting needles are crafted in a family owned and managed business that provides training and opportunities that contribute to the economic and social well being of the areas where they are produced.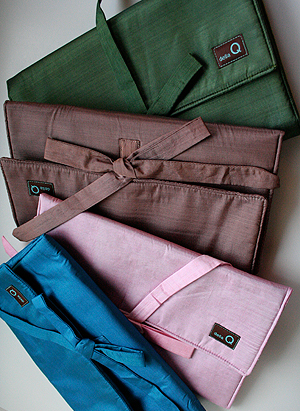 Need a gorgeous and super functional case for your needles? Look no further Della Q silk knitting needle cases, for both straight and circulars, including the QUE circular needle case....