The Fabulousyarn.com Guarantee

You may send it back. We try and make sure what you see is what you get on our site - but it's never 100% perfect.

Sometimes it's our pictures, sometimes it's your monitor - whatever it is, you may return it if you aren't 100% happy with it. Please let us know that you are returning it (use the contact page to send us an email) and we'll give you a return address and information on how to proceed. Please don't send it back without telling us - it affects our inventory, our unpacking, and stocking efforts, so we do need to know it's coming. We will happily exchange or credit your account. We charge a 5% restocking fee on returns. If you are exchanging something, please note that you will need to pay for the additional shipping.

Depending upon how you paid for your purchase, your return will take a 2-3 weeks. If you have returned something and want confirmation that we've received it, please just send us a note.
Note on SPECIAL ORDER COLORS For obvious reasons, we cannot always take back special order yarns. Ask us about the 400 dollar special order color in cashmere if you want to know the gory details. We are happy to discuss special orders in advance to make sure you get what you really want. Please contact us if you have ordered a special color and are not happy and we will try and work it out with you.

As always, please let us know if we can help you in any way: Contact Fab or use the button at the top of the page!
Thank You for shopping FAB.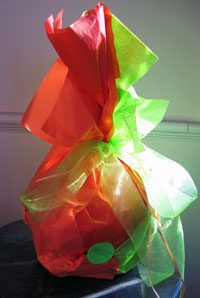 Our beautiful gift wrap -
available with any order!
(You can add it to your basket at checkout.)