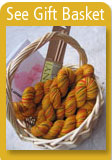 Don't forget needles!
Our Brittany's are Beautiful!
For the true fiber fanatic, this is a great wool for knitting, felting, or just sitting in a basket. It is handspun, and is almost roving in some places.

In other places it is a lustrous high twist wool. Whatever state it is in, it is gorgeous, and great for whipping up fabulous garment in a jiffy.

I did a kids hat in this in an hour and a half! For me, that is a truly satisfying project! Direct from the spinners in uruguay, this is just wonderful, organic-y, fiber lovers yarn.
Toddler Sweater KnitKit
100% Soft and Snuggly Handspun and
Kettle-dyed wool