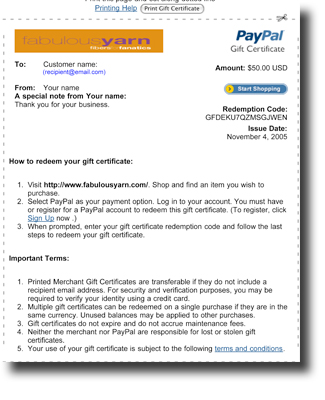 The Paypal gift certificate is purchased directly from paypal, and offers you the option of printing it right away, or emailing it to the recipient!
Instant Online or Printable Certificate from Paypal for use at Fabulousyarn.com (Best if the recipient has a paypal account!)
NOTE: Not sure whether or not the recipient has a Paypal account? Go with our digital online gift certificate - the paypal system is sometimes confusing if you are not a paypal account holder!
This gift certificate is available for printing as soon as you purchase it, or can be emailed and delivered within the hour.


Please note: This process takes you into the Paypal System, but YOU WILL BE ABLE TO USE A CREDIT CARD with the PAYPAL system!
Amounts from $5 - $1000.00.Use any credit card, or PayPal to purchase

delivered to your recipient within 1 hour
You receive a printable version if requested so you can gift it in person, too!
Ready to use as soon as its sent
Good for online purchases only
No shipping Charges!
Really fast - great for procrastinators!