$12 or less + FREE SHIPPING ON ORDERS OVER $75
(Instant discounts apply to Malabrigo Yarns at checkout on orders over $75)

(Avail: )
---
A fleece-dyed solid barbie pink. Whats the difference between a kettle dye and a solid? Feast your eyes on these two pinks - the one on the right (Shocking Pink) is a kettle dye, the one the left, (Strawberry Fields) fleece-dyed.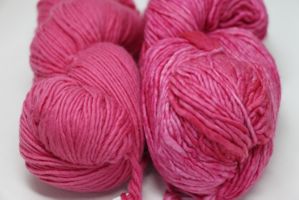 ---
CONTENT: 100% Merino Wool - Kettle & fleece dyed Worsted
WEIGHT/length: 100G / 210 Yards / 192 meters
GAUGE: 18.0 sts = 4 inches
PLY: Single
NEEDLE: US 7 - 9 or 4.5 - 5.5mm
HOOK: US I-9 to K-10/12 or 5.5-6.5 mm
CARE: Hand Wash, cold water
---
Malabrigo Merino comes in bags of 10. Multis are NO DYE LOT skeins, and are Visually Matched by Malabrigo. Alternating skeins within your pattern is recommended. SOLID colors are Dye Lots Per Bag. We will visually match if you order over 10. If you need more than what's available you can SPECIAL ORDER MERINO.
---