Chunky Handknit Rollneck Sweater Pattern
(NOTE: measurements on left are slightly diff. than pattern below. The pattern on left has been modified for YUKON yarn, pattern on left works better with less chunky yarns.
What you'll need:
-2 or three LARGE stitch holders
-set of 15" double pointed & straight needles *recommended to do neck as pickup and knit in round...tho you can just knit another couple of rectangles for the neck funnel as suggested at left.
-Enough yukon to finish the sweater (I know, seems obvious...but....)
-approx yarnage: toddler 18months: 2.5 to 3 2t/3:4 4t/5t 5 -6: Please purchase extra- you can also whip up a hat if you get too much.
The overall measurements for the finished sweater is as follows: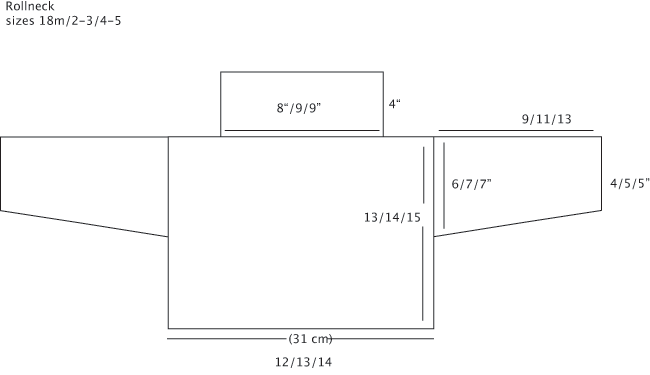 Please note: Please knit and check your gauge: We generally get 2/2.5 stitches per inch on 15's. Multiply the number of stitches x the inch width for the sweater size that you'd like:
Example: Im doing the 18month sweater. This has a 12" width. I get 2.5 st per inch in my swatch. So 2.5 x12 means I have to cast on 30 Inches + an additional 5 for seaming (since you seam on two sides, you multiply 2.5x2 for 5 extra stiches. I get 3 rows to the inch, so I have to knit 39 rows plus three extra for seaming/joining. Then just start knitting till you have a square in the correct dimension. Knit another one
Note: If you are knitting in the round, you can safely eliminate the extras for seaming!
Front and Back Sweater
Knit two 12x13" squares for the front and back casting on using measurements above
Sleeves:
Cast on to beginning width using same method described above. (so, an 18month sleeve would be 12"(2x6") at 2.5 st per inch you cast on 30. Knit two inches (6 rows if you get 3 rows to the inch based on your gauging square. Your total lsleeve length is 9", or 27 rows, and you have just knit 2, so you have 7, or 21 rows to go. You need to decrease from 12"(30 stitches)to 8"(20stitches) inches in that amount of rows. Knit 20 rows decreasing every other row, or ever second row. You'll end up with 24 stitches on your needles. Cast off very very loosely, and you've got a sleeve. Now, make another one.
NOTE: IF DECREASES ARE BEYOND YOU, YOU CAN START WITH KNITTING THE SLEEVES AS A SQUARE, WITH NO DECREASE. THIS WORKS JUST FINE. KNIT A SQUARE USING THE ARMHOLE LENGTH (6") BY THE LENGTH (9") FOR THE SIZE (SO TODDLER WOULD BE 6X9" )
Neck:For this yarn, it is recommended that you knit in the round - the seams are quite thick, tho it does work!
I would highly recommend learning to pick up and knit for this sweater, because seaming at the neck creates a ridge. A very good book to learn how to do this is the VOGUE knitting book.
Basically, using your double pointed needles, you pick up stiches with the tip of your needle, working from the outside of the sweater in, so any ridging happens on the inside. Your'e basically using the loops already on the sweater to knit into, instead of casting on new ones. Do a few extra at the shoulder joins to prevent gapping and knit away in simple knit stitch until you have 5" for a very rolly neck. Cast off, loosely, and you're done.