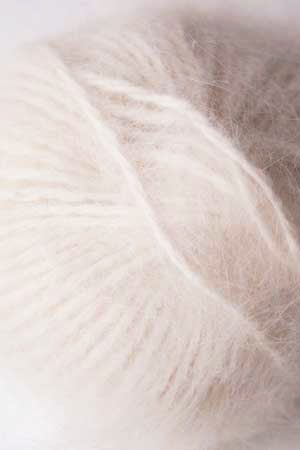 Very hard to photograph this lovely take on the bubbly. Just a little bit of rose in the tone, with
a touch of yellow, so it's not white, but it's not pink either. A very light, light rose beige, but
that doesnt do it justice. It's a lovely, lovely color.
$12.40 or less* (msrp $15.00)
+ Free Shipping over $75! (US)
(Up to 30% off *Fab discounts applied at checkout)


Content: 100% Artisanal French Angora Rabbit Hair – Hand-combed - humanely harvested. Made in France Weight: 10 grams
Length: 33 yards
Gauge: 4 stitches per inch
Suggested Needles: US size 5 (3.75 mm); Hook size F
Care: Handwash with care, dry flat; or have dry-cleaned at a facility with experience in this kind of fiber - the fiber felts easily



Kate Middleton Cardi from Vogue Knitting (Free Pattern with your purchase)


18 (23, 25, 28) of Belangora French(angora)
• One pair each sizes 4 and 6 (3.5 and 4mm)
needles OR SIZE TO OBTAIN GAUGE
• Size 4 (3.5mm) circular needle 24"/60cm long
• Removable stitch markers

Read more about our Amazing Angora Yarns!
891
Menthe
895
Classique
890
Charbon
892
Nectar
894 Victorienne
Holly 835
Romarin 893
801 White
802 Pink
803 Baby Blue
805 Lilac
807 Pearl Grey
808 Powder
809 Beige
810 Biscayne

811 Brown

812 Scarlett
813 Taupe
814 Royal
815 Navy
816 Black
825 Lavender
830
Turquoise
831 Green Apple
832 Cherry Blossom
833 Flamingo
834 Carolina Blue
856 Grenat
860 Champagne
861 Light Camel
863 Copen Blue
868 Canary
870 Dark Grey
871 Oatmeal
876
Off White
885 Mink
889 Fuschia