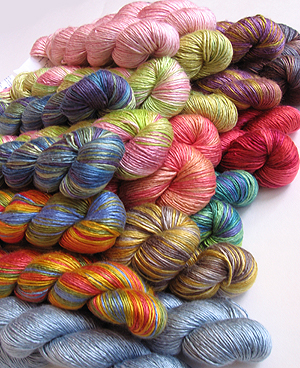 The beautiful bounty of Artyarns Regal Silk - once you've knit with it, you'll be hooked!

Gorgeous Handpainted regal silk yarn from artyarns in a stunning array of colors, from wild to delicate. Great for baby hats, blankets.
Artyarns Regal Silk will work with a wide array of patterns - you may need to adjust for it's slightly lighter hand and smaller guage. I makes a warm, but lightweight garment, that is always a pleasure to wear close to the skin regardless of how warm the weather is.