Beautiful roving-like handspun silk strung with funky brass sequins.
Approx 100-110 Yards
gauge is 4 st per inch on US 9s
Daily Deal 8-7 Artyarn Silk Mohair Glitter - 4 colors!
Take Artyarns most fabulous silk mohair, add a touch of lurex, and you get an embellished mohair yarn that is fit for the gods. Light, lovely and not at all garish, this yarn simply glistens.

$29.60 free shipping! (Regular price: $37)
(Free shipping + Elisabeth Scarf)
Free with this purchase - The elisabeth scarf - uses 3 skeins (approx 687 Yards total) on a size Size 6 US Circular BUY NEEDLES

Free pattern with this purchase: Elisabeth Scarf Knitting Pattern Uses 3 skeins!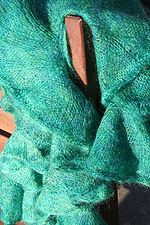 Gorgeous Multi ruffle scarf is an easy to follow pattern that shows of Artyarns Silk Mohairs Gorgeous Tonals