WOW! What a weekend!
The picturesque and sleepy town of Rhinebeck in upstate New York was flooded with fibre enthusiasts this past weekend.
I was lucky enough to be around for not only the festival, but also an Army of Knitters Trunk Show at Fabulous Yarn in nearby Tivoli.
The shop was jam-packed full of eager shoppers, filling their baskets with gorgeous yarns and all things to do with knitting, crochet and spinning – and all at 30% off! None were as cute as this happy shopper, who choose yarns and a hook to start crocheting. His smile grew even larger when he received his goody bag, stuffed with yarn, a magazine and knitting needles. When asked if he wanted to swap the needles for a crochet hook, he declined, saying that now he could learn knitting too! I think all of our hearts grew several sizes larger at that moment! I hope he lets us know how he's getting on.
People flock, (hehe – I made a pun!) to the Sheep & Wool Festival to shop, but also because the scenery is so beautiful at this time of year. The trees are filled with amazing colours, and so are most of the shoppers, as they adorn themselves in their handmade items.
One of the main reasons I visit the festival is to catch up with some of my yarnie friends. I don't get to see them very often, so when we meet up it's all excitement and hugs :oD
Day 2 of the Festival & Trunk Show started with a lovely walk with my handsome Red Heeler, Jakey-Boy.
I wrapped up in my, as yet, but very soon to be released hat in Knit Collage Castaway & my AoK Sugar Maple Wrap.
I also wore my much-admired Magic Ball Racer-Back Dress, and was happy with my choice of water-proof footwear, as it started SNOWING later in the day!!!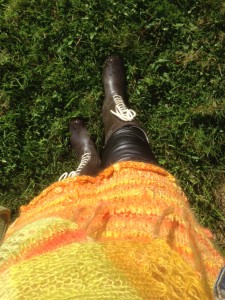 Jakey-Boy loved romping through the huge leaves…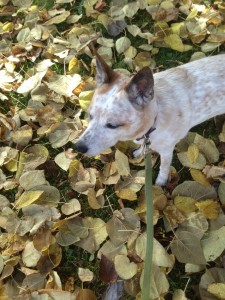 …but the long weekend was quite exhausting for both of us. This is how we spent most of yesterday!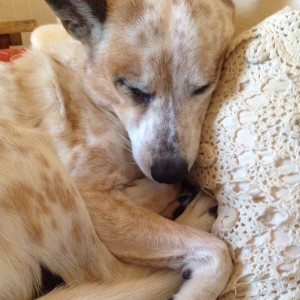 We had a wonderful time but it was all over too soon!
Here is a selection of the goodies I scored: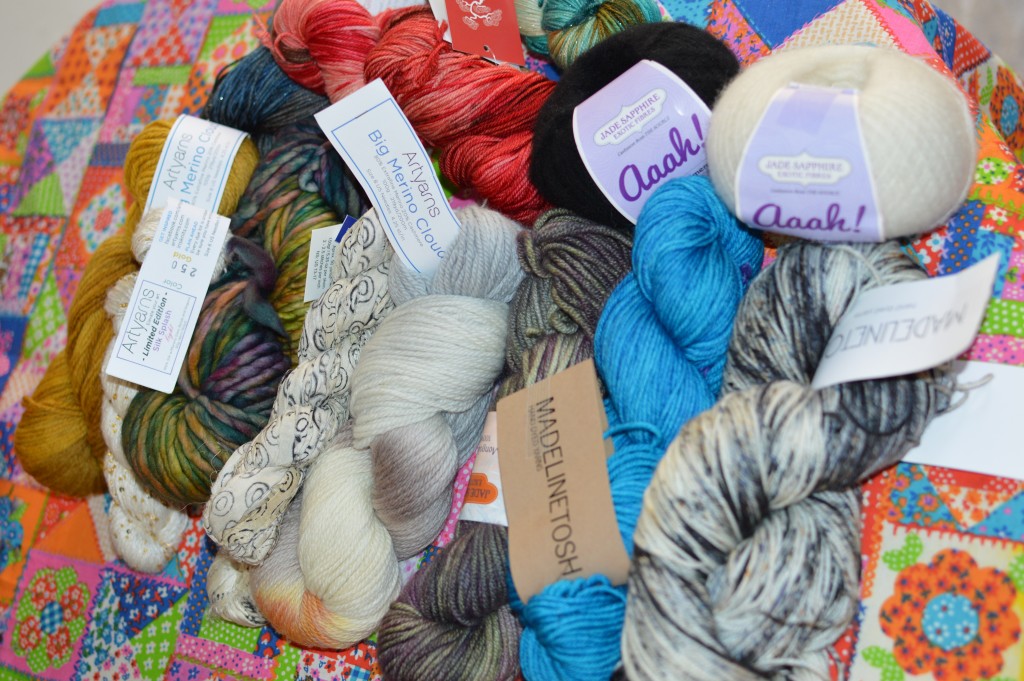 Be sure to check in here regularly to see what these become!
Did you visit the festival? And the shop? Drop me a line in the comments section to let me know how your weekend went and what goodies you took home? I'd love to hear from you!
Enjoy your new yarny goodness!
H xxxx