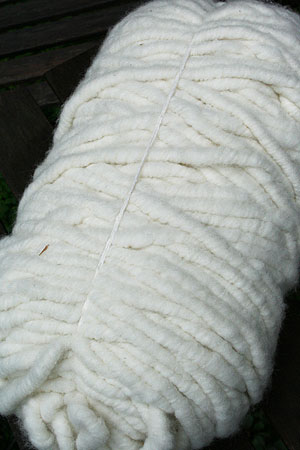 Pearl, which is the Merino White color in the Bagsmith Yarn, is not quite a cream, but a beautiful, clear white - and in this new new merino version - it's heavenly! Lighter and lovelier - much better for fabulous garments, as well as super soft pillows and throws - 125/130 yards per bump, and think of what you can do with that at 1 stitch per inch!
$134.40 or less
after discounts applied at checkout.
Reg Price: $168
Content 100% merino Strand with Nylon Core. 125/130 yards/ 35 Oz
Gauge 1 st 1" and 1 row US50
Weight/Yardage 40oz/125 Yards
Care hand wash, lay flat air dry or dry clean
Dyed & Spun in the USA


Basix Jump circulars are just the ticket for this fabulous yarn!

Warm Grey
Light Grey
Onyx
Pearl
Ruby
Candy Cane Multi
Chocolate
Granite
Multi
Slate
Grey
Emerald
Garnet
Amethyst
Rose
Quartz
Turqoise

At 1 stitch per inch, this yarn truly earns its Bulky Yarn moniker!


That's Heather from Army of Knitters in the Bobble Cowl - free pattern with any purchase of a BUMP from US - Uses one skein of either kind of BUMP - merino OR alpaca!